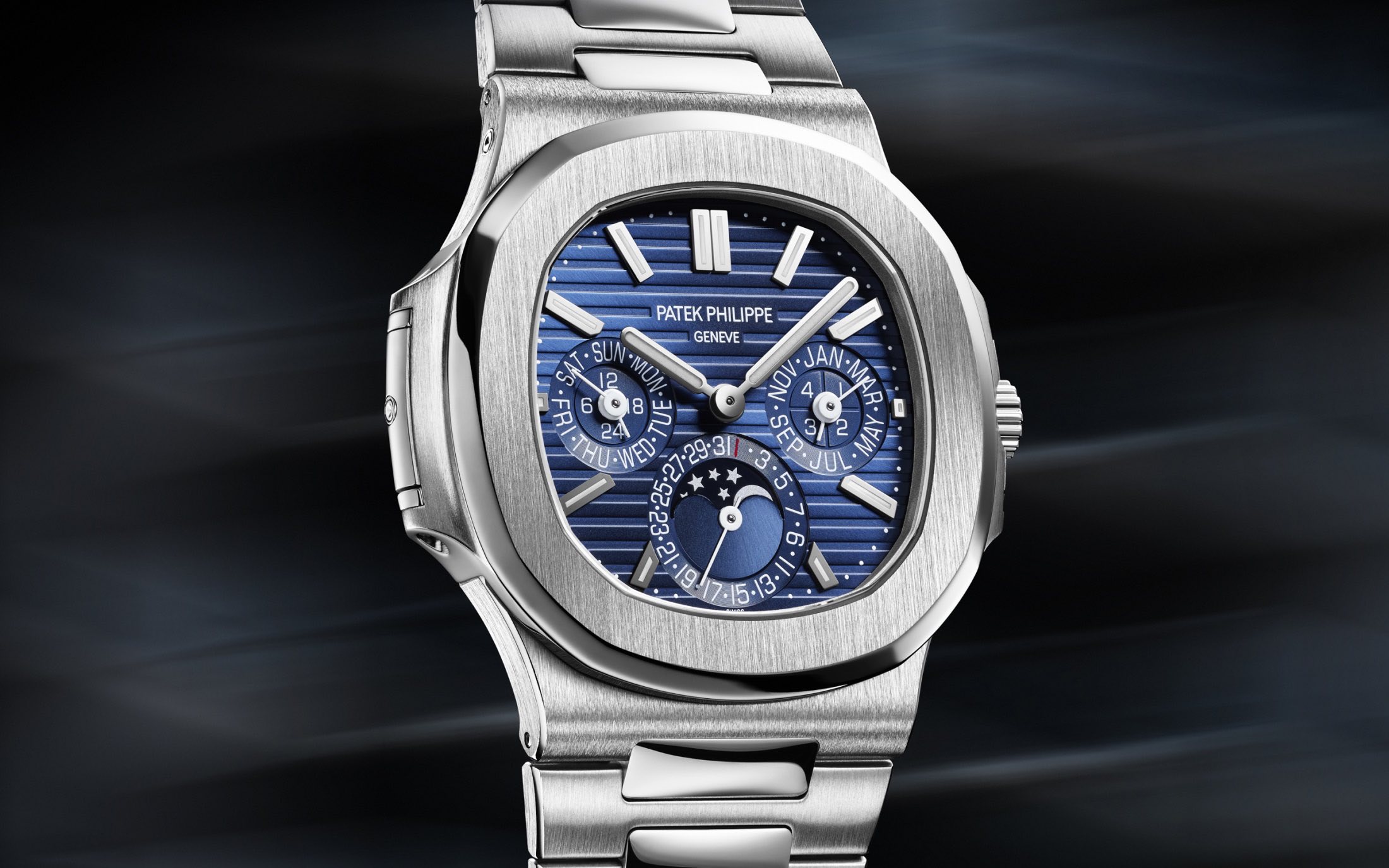 Not only the perpetual calendar complication makes up for the price of CHF105,000 Swiss Francs, also the fact that this Nautilus 5740/1G is made of white gold helps. The /1G indicates the use of white gold, for those unfamiliar with the reference codes by Patek Philippe. Gold has also been used for the moon phases disc for example. This disc, made of sapphire, has two gold moons and a number of stars on there.
With the addition of the perpetual calendar to the Nautilus collection, Patek Philippe combined their iconic luxury sports watch with a superb complication. Although in my opinion they also did that already with the chronograph. The chronograph is an often underrated complication in terms of complexity. However, the aesthetics are quite different of course. Where the chronograph always adds some bulkiness due to the extra pushers for operating the movement, the perpetual calendar only needs a few very small correctors that can easily be hidden in the case band.
In my opinion, Patek Philippe did a marvellous job by keeping the aesthetics of the Nautilus as modest as possible. A thin case made of white gold, a beautiful blue dial with the typical Nautilus motif and only a dial that reveals the grand complication. The white gold has, of course, this soft glow that you won't find on the stainless steel versions of the Nautilus. But only those who know will identify it as a white gold watch, and most probably because of the dial layout that shows there's more going on than just three hands and a date aperture.
I've seen the vintage Nautilus 3700/1A approaching the €100.000 mark, and although  I see the beauty and 'collector's passion' for that reference, I would certainly spend my own money on this perpetual calendar for the sake of combining one of the most beautiful watch designs in the world with one of the most interesting complications in the world, both by Patek Philippe.
The Patek Philippe Nautilus collection consists of 33 different watches today, the newest model being this Nautilus 5740/1G, or the 'Nautilus Perpetual Calendar'. The Nautilus 5740/1G is actually the first grand complication in the collection. While the 'simple' three-hand Nautilus 5711/1A is the most wanted reference, there is also a date & moon phase model (reference 5712), an annual calendar (reference 5726), a chronograph (reference 5980) and a chronograph & dual time model (reference 5990). And now a perpetual calendar complication has been added to the Nautilus family. What used to be considered as the enfant terrible of this Geneva manufacture, has now become one of the hottest watches in the world. Instead of creating limited editions of all sorts, Patek Philippe chooses to keep the production limited, while the demand is high. Very high. It is simply not available, see the first paragraph of this article.